Philanthropy & Fundraising
·
Smith Family Foundation
Smith Family Foundation Program Assistant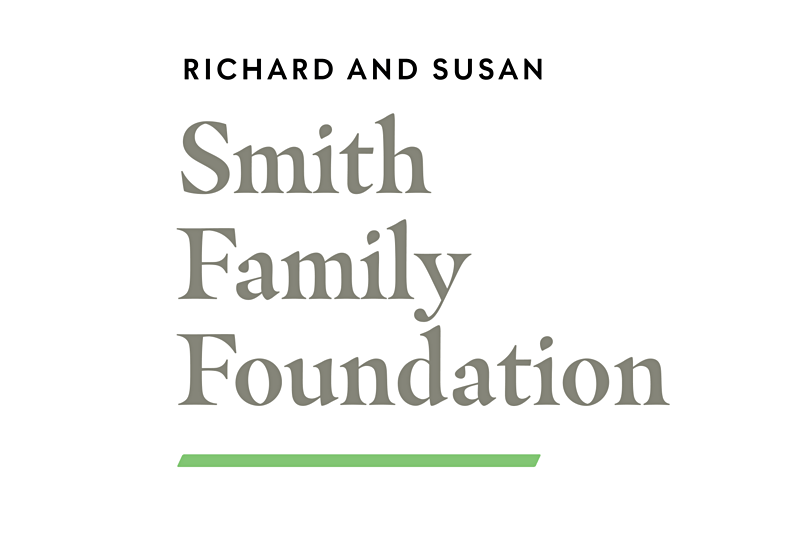 ABOUT THE RICHARD AND SUSAN SMITH FAMILY FOUNDATION
The Richard and Susan Smith Family Foundation is a multigenerational family foundation seeking to improve health, educational, and economic outcomes for individuals and families throughout Greater Boston and Eastern Massachusetts. We focus our effort and resources in the areas of biomedical research, community health, education, community needs, and supporting the Jewish community. We aim to back extraordinary leaders, promote innovative approaches to pressing problems, expand access to essential services, and contribute to the vitality of Greater Boston. Because SFF is a lean organization, all staff contribute to a wide range of responsibilities and activities. For additional information on the Foundation and its major initiatives, please visit www.rssff.org. 
THE OPPORTUNITY
The Richard and Susan Smith Family Foundation (SFF) seeks a detail-oriented, collaborative, and mission-driven Program Assistant. The position is geared toward a generalist and presents an exciting opportunity to join a committed team at a moment of growth and change at the Foundation. The Program Assistant will be responsible for supporting grantmaking initiatives and programs across a broad set of strategic priorities and will also be called upon to support the day-to-day operations of the Foundation. The position offers opportunities to take initiative, learn many different facets of philanthropy, and grow into a more senior role. The Program Assistant will report to the Executive Director, and work closely with the Senior Program Officer, Office Manager, and two Directors.

KEY RESPONSIBILITIES

As Program Assistant, you will support the overall operations and programming of the Foundation while serving on a team eager to foster your growth in philanthropy.


Program Administration 
Conduct due diligence, to include stakeholder interviews, visits, and review of budgets and financial information.

Assist applicants in the grant proposal process, support proposal evaluation and summary writing. Make recommendations to senior staff and Trustee committees concerning proposals.

Communicate with potential applicants to answer questions and determine eligibility for Foundation grantmaking programs. Support applicants and grantees in utilizing the grants management system for submitting applications and reports.

Track desired outcomes and performance metrics to assess grantee performance and program effectiveness.

Undertake and support research in any of the Foundation's program areas or emerging interests as needed to inform strategy development and portfolio review 

Grant Administration 
Ensure the completeness and accuracy of information in the grants management database, assemble reports as needed.

Manage process to ensure timely and accurate processing of approved grants after each Board meeting. Draft grant agreements, pledge letters, declination letters, and other related documentation for lead program staff to review.

Build relationship with and serve as in-house expert of grants management software vendor (SmartSimple).

Adjust processes and train staff as necessary to streamline and automate grant reporting and documentation.

Review grant agreements, payment schedules, budgets, reporting, and other Foundation activity for adherence with agreements as well as compliance with rules governing private foundations; bring any potential issues to the attention of the Executive Director and lead program staff. 
General Administration
Assist in Board and Committee meeting management, including preparation of pre-reading materials and presentations, documenting meetings, managing communications, and addressing follow-up items. Upload information to and maintain the Foundation's Board portal management software (BoardEffect).
Represent SFF at external meetings and conferences with partners, funders, and field leaders as requested.

Provide occasional project management for Foundation-led events in coordination with other staff and vendors/consultants.
Communications + Marketing 
Serve as a resource to nonprofit agencies, public and private funders, and the general public about the Foundation's grantmaking priorities, guidelines, and proposal review process; field general inquiries.

Work with Senior Program Officer to support the Foundation's communications effort, including but not limited to updating the Foundation's website, drafting and coordinating staff input for a biweekly organizational newsletter in Constant Contact, preparing the internal Year-in-Review, and preparing grantee performance dashboards.
QUALIFICATIONS AND EXPERIENCE
There are innumerable ways to learn, grow, and excel professionally. We respect this when we review applications and take a broad look at the experience of each applicant. We want to get to know you and the unique strengths you will bring to the work. This said, we are most likely to be interested in your candidacy if you can demonstrate the majority of the qualifications and experiences listed below.

At least one year of professional experience in a related field; this could include internships or co-ops.

Experience working with the Greater Boston nonprofit community and/or private foundations.

Excellent written and verbal skills. Able to synthesize a great deal of information into clear, defensible recommendations. Ready to back up conclusions with data and strong arguments.

Fast learner with the ability to easily grasp and understand new concepts; ability to juggle multiple assignments and handle deadline pressure.

A high degree of emotional intelligence. Demonstrated experience in handling confidential and sensitive information with discretion.

Flexibility to staff occasional meetings outside of business hours with advance notice.

Advanced knowledge of Microsoft products, including mastery of Microsoft Office Suite (Outlook, Word, Excel, PowerPoint), strongly preferred.

Experience with grants management and email marketing software preferred.
YOUR STRENGTHS + INTERESTS
We know that our team will do their best work when they love what they do. So, it's important that you're as excited about this role as we are. We believe to enjoy this role you'll:  
Employ a high level of accuracy, attention to detail, and follow-through.

Possess personal humility and sensitivity in navigating power dynamics within philanthropy. Ability to build trusting relationships quickly with grantees, prospective grantees, Board members, and peers.

Be able to work independently as a project leader and also as a team member. A "self-starter" who can both lead and follow as the situation requires.

Think critically with the ability to exercise judgment, set priorities, and cope with competing demands. Excellent time-management and general organizational skills.

Be hands-on, and believe that "no job is too big or too small."

Use your strong moral compass and sense of personal integrity in the stewardship of philanthropic dollars.
COMPENSATION & BENEFITS

The Richard and Susan Smith Family Foundation offers staff a comprehensive package of employee benefits including 20 days of paid time off; 100% employee premium paid plan for medical and dental insurance; retirement contribution; and professional development.
This is an exempt position with a starting salary range of $70,000-$75,000 based on experience.
The Program Assistant will work at the Foundation office in Newton, Massachusetts approximately 4-5 days per week during their onboarding. The Foundation's in-person vs. remote work policy is evolving and may change from time to time.The Assistant must have access to reliable transportation to travel within Eastern Massachusetts for occasional meetings and site visits (reimbursed by the Foundation).
The Foundation requires employees to be fully vaccinated against COVID-19 or proof of an exemption granted under the terms of applicable law.

TIMELINE + HIRING PROCESS
We will review and respond to all applications received. While subject to change, candidates elected to advance throughout the process can expect an initial phone interview with Positively Partners, an interview with the Executive Director and for finalists, an onsite interview day with Smith Family Foundation staff and submission of references. The Foundation seeks to fill this position by winter 2022.
To apply, please upload a current resume and cover letter. You can inquire confidentially about the position, access support in completing the application, and/or request an accommodation by emailing search@positivelypartners.org.


The Smith Family Foundation is an Equal Opportunity Employer.

Department

Locations

Smith Family Foundation
our philosophy
We partner with nonprofits and socially-minded organizations that want to make a difference in people's lives. Since organizations are most impactful when there is alignment between its mission and their employee's values, and employees are most engaged when their strengths, purpose and attitude align with their role, our goal is to match qualified applicants with organizations that align with their strengths, purpose and values.
About Positively Partners
Positively Partners is a social enterprise committed to helping schools, nonprofits and socially-minded organizations achieve exceptional performance from their employees.
We are psychology practitioners, human resources professionals, trainers and system design experts working together to create highly productive, mission-driven, work communities.
Philanthropy & Fundraising
·
Smith Family Foundation
Smith Family Foundation Program Assistant
Loading application form