College for Social Innovation
College for Social Innovation, Equitable Recruitment Strategy & Operations VISTA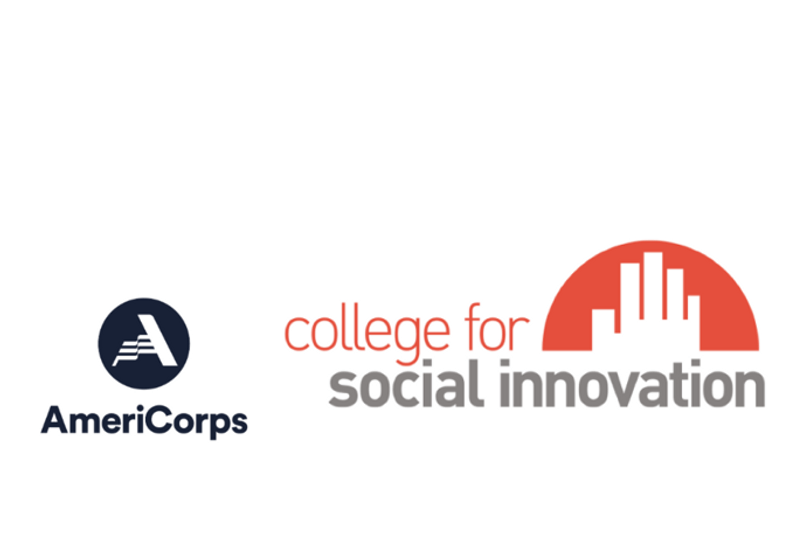 COLLEGE FOR SOCIAL INNOVATION

The Campus Compact AmeriCorps VISTA program places AmeriCorps VISTA members in full service with our campus and community partners for a one-year period. During this year, members spend 35 hours per week on their host site's campus or with one of that campus's community partners to work on building systems and programs that support low-income college students and community members. The VISTA member's work is to build capacity, meaning that rather than directly serving the community, they're enhancing or creating systems, structures, and resources that support the direct anti-poverty work. Campus Compact functions as the central VISTA program hub, performing program administration, offering training and support to VISTA members and their projects, and connecting the work happening in individual projects both to similar work happening nationwide and back to AmeriCorps. For detailed program information and FAQs, please visit our website.
Service Term:
August 1, 2023 – July 31, 2024
Please note that this start date is subject to change. Start dates are based on a federal calendar and are not flexible. Regardless of start date, the term of service lasts exactly one year.
Position Details:
Summary
Reporting to the Senior Manager of Enrollment, the Equitable Recruitment Strategy & Operations VISTA will play a key role in building capacity for CFSI's Recruitment & Marketing team to effectively recruit and enroll BIPOC, first-generation and Pell-eligible college students into Semester in the City: a study away program in which students complete a mentored internship at a Boston-based social impact organization for full college credit. With the support of the R&M team, the VISTA will research and produce a report to document offices and organizations that serve underrepresented students at our partner college campuses. Relatedly, the VISTA will play a key role in supporting the development of a strategic outreach plan to engage with these organizations and ultimately increase the enrollment of underrepresented students into our program. Finally, the VISTA will learn and leverage Salesforce customer relationship management (CRM) software to support the R&M team in systematizing our digital recruitment communications strategy and operations, with a focus on implementing new messaging campaigns that speak directly to underrepresented student populations. Ultimately,
the VISTA's work will create lasting organizational resources and aid the development of cross-institutional relationships that will support CFSI in fulfilling its mission of eliminating access gaps to study away and work-based learning opportunities for underrepresented students and diversifying the social sector talent pipeline.
Responsibilities
Research and aggregate information about campus-specific resources for underrepresented students, which the Recruitment and Marketing team can use to target outreach to historically underrepresented campus groups.
Gather performance data and marketing materials that demonstrate the success of underrepresented students in our program, which the Recruitment and Marketing team can share with campus contacts and prospective students
Develop and integrate email and texting campaigns into customer relationship management (CRM) software to support the recruitment, enrollment and retention of first generation college students, Pell-eligible students and students of color
Evaluate and update technical user guides for existing and future recruitment staff to streamline processes that support the recruitment and enrollment of underrepresented students
Assist in analyzing recruitment and enrollment trends to inform future recruitment efforts, particularly recruitment of students of color
Research college access orgs with ties to partner schools and develop a report to help College for Social Innovation's recruitment and marketing team increase coordination with access-focused groups and offer programming (e.g. professional development workshops) that directly meets the needs of underrepresented students.
Support an intensive internal knowledge capture effort to learn more about the 164 Greater Boston social impact organizations we have worked with, their current and likely future needs, and characteristics (size, focus area, leadership) that may correlate with student learning.
Attend orientation, weekly meetings, days of service, and trainings/retreats coordinated by Campus Compact
Complete data collection and reporting activities required by Campus Compact and AmeriCorps
Preferred Qualifications
Strong organizational and research skills, excellent with details and follow-up
Experience and/or interest in learning how to use Salesforce to streamline operations and conduct basic analysis
Interest and experience in coaching and supporting students with a solution and customer service orientation
Outstanding interpersonal skills and an ability to communicate effectively with various stakeholders, including college students as well as university and community-based organization administrators
Bachelor's Degree and relevant experience with relationship building, research and/or data analysis
Requirements
BA/BS or equivalent experience
US Citizen, national, DACA status, or legal permanent resident
Must be able to complete federal background check
Logistics
Status: Hybrid

Note: Remote in this case refers to not regularly going in person to the office; VISTA members must be located within commuting distance of their host site.
College for Social Innovation policy is staff can work from home but must be present in the office 1-3 days a week
Benefits
AmeriCorps VISTA Benefits:
Bi-weekly living allowance of $1,150.80
End of service award (AmeriCorps member must choose one of two options; requires completion of full term of service to receive)

Segal AmeriCorps Education Award ($6,895)
End-of-Service Cash Stipend ($1,803.10)
Relocation stipend for candidates moving more than 50 miles ($750)
Mileage reimbursement for candidate moving more than 50 miles ($0.40/mile) 
Healthcare benefits (AmeriCorps member must choose one of two options)

Healthcare allowance for out-of-pocket expenses
Basic healthcare coverage
10 Days Personal Leave
10 Days Sick Leave
14 Days Holiday Leave
Child care assistance for children under 13 years of age (income dependent) ● Student loan forbearance or deferment for certain loans
1 year of noncompetitive eligibility for federal positions*
Access to professional development opportunities provided by Campus Compact & AmeriCorps
Additional Host-Site Benefits:
$250 housing stipend paid directly to landlord or lender
Monthly MBTA pass valued at $45
Monthly telecommunications reimbursement up to $100
Access to regular and ongoing feedback and professional development opportunities internally and ability to leverage organizational resources to seek additional development opportunities externally
*Contingent on the successful completion of a whole term of service
**Household income restrictions apply
How to Apply:
You can apply to this position two ways:
1. Apply on Posivetly Partner's Job site, click on Equitable Recruitment Strategy & Operations VISTA
2. Apply Directly to the Site
Reach out to the site contact, Colin Loftus, via email at
colin.loftus@collegeforsocialinnovation.org with your resume and information
---
College for Social Innovation (CFSI) brings together colleges and social sector organizations to create fully-credited experiential learning opportunities that are meaningful, accessible, and life-changing. Our college students, referred to as Social Innovation Fellows, build skills, a digital portfolio, and a professional network that helps to position them to become the next generation of problem solvers for humanity's tough challenges. Students are placed in a semester-long internship (400 hours) and also take skill-building and reflection classes twice a week as part of a diverse "Semester in the City" cohort.
College for Social Innovation is now completing a two-year pilot of its Semester in the City program, having enrolled almost 100 students from six colleges and universities and achieved strong initial results. We are looking to further build an innovative and unique educational experience that can add value for students and their home colleges while building a bigger, better, and more diverse talent pipeline for the social sector.
In the next three to five years, we look to create a nationally recognized curriculum and instructional delivery model that generates strong results while growing to serve 350+ students per year and preparing for potential growth beyond Boston. Ultimately, we aim to build a movement to make it common for millions of college students -- representing the full diversity of the nation -- to gain access to careers in the fast-growing social sector. During their Semester in the City, Fellows participate in well-structured and academically-accredited internships where they learn from real-world experiences, build relationships with mentors, and build personal, professional and academic skills.
---
EQUAL OPPORTUNITY EMPLOYER
College for Social Innovation is an equal opportunity employer and does not discriminate on the basis of race, color, national origin, sex, religion, age, disability, sexual orientation, gender identity, veteran status, height, weight, or marital status in employment or the provision of services. National Service Alumni (i.e. Military, AmeriCorps, Peace Corps, etc.) are strongly encouraged to apply.
our philosophy
We partner with nonprofits and socially-minded organizations that want to make a difference in people's lives. Since organizations are most impactful when there is alignment between its mission and their employee's values, and employees are most engaged when their strengths, purpose and attitude align with their role, our goal is to match qualified applicants with organizations that align with their strengths, purpose and values.
About Positively Partners
Positively Partners is a social enterprise committed to helping schools, nonprofits and socially-minded organizations achieve exceptional performance from their employees.
We are psychology practitioners, human resources professionals, trainers and system design experts working together to create highly productive, mission-driven, work communities.
College for Social Innovation
College for Social Innovation, Equitable Recruitment Strategy & Operations VISTA
Loading application form