Executive Leadership
·
Y2Y Network
Y2Y Network- Executive Director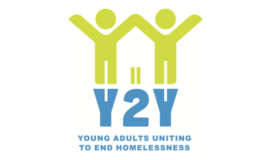 ABOUT Y2Y
Y2Y Network's mission is to disrupt the cycle of homelessness by and for a generation of young adults. Its groundbreaking college partnership model mobilizes young people to provide a safe and affirming environment for young adults experiencing homelessness. Founded in 2015, Y2Y Harvard Square is the nation's first homeless shelter for young adults run by college students affiliated with Harvard University's Phillips Brooks House Association. In the coming year, Y2Y Network plans to launch its second site in New Haven, CT in partnership with Youth Continuum, A Clifford Beers Community Health Partner.
Y2Y's peer-to-peer model relies on the talents, passion, and leadership of hundreds of young adults. Y2Y meets guests' needs with a comprehensive program to provide emotional and physical stability and facilitate access to critical resources. Y2Y's extensive partner network includes professional health care providers, skilled volunteers, and community partners. Student case managers work with guests to access critical resources, including job training, mentoring, mental health care, and permanent housing.
Together, guests and student staff receive training and support to become the next generation of advocates for youth-driven solutions to homelessness. To date, over 450 young people experiencing homelessness have accessed Y2Y's services, including legal, health, and case management.
THE POSITION
The Executive Director reports to Y2Y's Board of Directors and works in close partnership with our guests, student staff and community partners. The Executive Director will manage a staff team of six, including the Harvard Square Student and Community Manager, the New Haven Student and Community Manager, Director of Administration, Operations Coordinator, Development Associate and a Director of Development. Y2Y's FY23 annual budget is $1.2MM. 
This position can be based in either greater Boston, MA or greater New Haven, CT. Travel to each site is expected.
MAJOR FUNCTIONS & RESPONSIBILITIES
As the Executive Director, you will be responsible for the following threads of work:
Organizational Leadership and Program Stewardship
Position guests, student staff and volunteers as leaders in the movement to interrupt the cycle of youth homelessness and create a sustainable framework for their leadership to thrive

Support and foster a culture that embraces teamwork, transparency, seamless communication and mentorship for staff

Collaborate with Board and staff team to drive the organization's economic model and sustainability strategies

Promote ongoing success of core services by using data to drive decisions and foster a spirit of continuous improvement

Enhance and maintain Y2Y's systems and infrastructure, including team management

Commitment to diversity, equity, inclusion, and belonging. Committed to active and ongoing learning, understanding one's own identity, power, and privilege, and acknowledging the intersectional identities of students, staff, guests, and Board.
Fundraising and Partnership Development
Cultivate and steward critical relationships such as college and university partnerships, shelter locations, funders, and community organizations, to reach organizational scale and sustainability goals

Execute ambitious but achievable annual and long-term plans for revenue generation and partnership creation

Effectively engage the Board of Directors to provide ongoing support and engagement in the areas of community partnerships and resource development

Strengthen program effectiveness by fostering relationships with Y2Y partners, collaborators, volunteers, staff, donors, community organizations and program participants

Provide funders and partners with data, reports, and information to feel confident that their contributions are being deployed in a cost-effective and results-driven manner
Advocacy and External Affairs
Strategize with the leadership team on approaches to building important and sustained cross-sector partnerships that include community and state agencies that can generate both revenue and influence on ending youth homelessness

Maintain a working knowledge of significant developments and trends and build Y2Y as a sought-after resource in the fields of youth homelessness, youth leadership and university partnerships
QUALIFICATIONS & EXPERIENCE
There are innumerable ways to learn, grow and excel professionally. We respect this when we review applications and take a broad look at the experience of each applicant. We want to get to know you and the unique strengths you will bring to the work. This said, we are most likely to be interested in your candidacy if you can demonstrate the majority of the qualifications and experiences listed below:
Successful candidates will demonstrate deeply held respect and understanding of the power of youth leadership, even if their primary professional background is in another field. Demonstrated commitment to serving vulnerable populations in a direct service capacity preferred.
Ability to build sustainable and productive partnerships with nonprofits, businesses, academic institutions, and city and state government agencies

Ability to compel others to action as a key storyteller of our path to impact, priorities for growth and ongoing contributions to the communities and young people we serve

A proven track record and passion for nonprofit fundraising that is demonstrated in a commitment to maintaining current funders, a zest for cultivating new donors, an ability to generate new revenue streams, and a history of successfully taking organizations to the next level of sustained philanthropic support

Self-motivated and inspirational problem solver with demonstrated ability to coach, manage, and develop high performing, diverse teams to achieve strategic objectives

Intellectual depth, maturity, and the ability to collaborate effectively with colleagues, Board Members, external partners and direct reports

Strong analytical skills and use of data to drive fundraising and partnership decisions and forecasting

Service mindset and execution; prepared and committed to work "shoulder to shoulder" to support Y2Y Network's daily operations and program implementation

Experience with advocacy, relevant public policy, and systems reform efforts
In addition, the successful candidate will demonstrate our organization's key values:
Dignity: Dignity is for everyone. We believe everyone deserves to feel pride and self-worth, and we are committed to ensuring that all people are treated with the utmost respect and kindness.

Safety: Our priority is to maintain an environment where everyone, including all our guests and volunteers, feel completely safe. We continually strive to ensure not only their physical safety, but their emotional safety as well. This is a space of comfort and trust.

Adaptability: We never stop growing and improving. Quantitative and qualitative surveys and assessments allow us to continually update and adapt our programming to ensure that we are providing the absolute best service possible.

Collaboration: Everything we do is a team effort, from day-to-day operations to advocacy and leadership. We thrive on a connected environment, bringing together the unique skills of expert service providers, community members, local institutions, motivated students, and talented young adults experiencing homelessness to achieve meaningful goals and create positive change.

Affirmation: We are open to all lived experiences and strive to create a non-judgmental, open, and affirming space for young people of all gender identities and sexual orientations.
COMPENSATION & BENEFITS
Y2Y Network offers a collaborative staff team, flexible work environment, and comprehensive benefits package. Our salary range is $115,000-$130,000; commensurate with lived and professional experience. Click here to find an overview of the available benefit offerings.
Learn More: Y2Y's work has been featured in the Boston Globe, National Public Radio, The Huffington Post, and NowThis. Y2Y's strategic and foundation partners include MassChallenge, The Draper Richards Kaplan Foundation, the Harvard Innovation Lab, Social Innovation Forum and TUGG. Y2Y is proud to have been honored by the Massachusetts Nonprofit Network and New England Business Association. For more information, please visit https://www.y2ynetwork.org.
TIMELINE + PROCESS
Interested candidates are encouraged to promptly submit their application through our online portal. All applicants will receive a response to their application within two weeks of submission. Please email search@positivelypartners.org with questions or for support submitting your application. While subject to change, candidates elected to advance throughout the process can expect a phone interview with Positively Partners, an interview with members of the Selection Committee, and, for finalists, an interview day with staff and stakeholders, including a robust and holistic reference check process.

EQUAL OPPORTUNITY EMPLOYER
Y2Y Network is an Equal Opportunity Employer committed to sustaining a diverse community with a work environment that is welcoming, respectful, and encouraging to all. We foster a culture of inclusion that celebrates and cultivates diversity along multiple dimensions, including race, ethnicity, sex, gender identity, gender expression, sexual orientation, out of home care, age, national origin, socioeconomic status, religion, ability, culture, and experience.
Department

Role

Executive

Locations
our philosophy
We partner with nonprofits and socially-minded organizations that want to make a difference in people's lives. Since organizations are most impactful when there is alignment between its mission and their employee's values, and employees are most engaged when their strengths, purpose and attitude align with their role, our goal is to match qualified applicants with organizations that align with their strengths, purpose and values.
About Positively Partners
Positively Partners is a social enterprise committed to helping schools, nonprofits and socially-minded organizations achieve exceptional performance from their employees.
We are psychology practitioners, human resources professionals, trainers and system design experts working together to create highly productive, mission-driven, work communities.
Executive Leadership
·
Y2Y Network
Y2Y Network- Executive Director
Loading application form