Real Estate / Title
·
Community Title Network (Easton, MD)
Administrative Assistant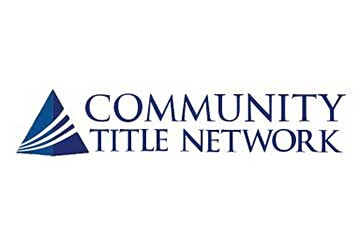 THE POSITION
Community Title Network is looking for an Administrative Assistant to organize and coordinate administration duties and office procedures. The Administrative Assistant will provide support to our office manager and other team members, assisting in daily office needs and managing our office's general administrative activities.
You are an ideal candidate for the position if you thrive in a fast-paced environment, are well-versed in what is required to ensure the smooth running of the office and are excited to help to improve company procedures and day-to-day operation. This position comes with the opportunity for future growth within the office including getting involved in marketing activities and supporting closing procedures.
We are eager to speak with candidates who are open to learning a new field (or a new way of working within the title industry), have terrific communication skills and enjoy working with other people.

KEY RESPONSIBILITIES:

Answer and direct phone calls
Organize and schedule appointments
Write and distribute email, correspondence memos, letters, faxes and forms
Order office supplies 
Maintain contact lists
Provide general support to visitors
Act as the point of contact for internal and external clients 
QUALIFICATIONS & MINDSET
Prior administrative experience or internship a plus 
Proficiency in Microsoft Office and comfort with technology generally 
Excellent written and oral communication skills
Excellent time management, attention to detail and ability to manage multiple tasks/priorities in a fast-paced environment
Familiarity with email scheduling tools 
Ability to thrive and learn in our fast-paced, entrepreneurial environment while bringing an enthusiastic, collaborative approach to your work  
Highly detail-oriented
Collaborative and team-oriented
COMPENSATION & BENEFITS:
Salary will be competitive with similar roles at competing companies and you will also receive a robust benefits package. We offer medical, dental and vision insurance, 401(k) retirement plan with match, paid vacation, professional development opportunities, and more.
ABOUT US

We are the fastest growing title and settlement company in the Mid Atlantic, looking for team oriented people who want to advance their careers. Our family oriented philosophy and our team oriented focus on customer service are driving forces for our company culture and our success. We are looking for qualified individuals for positions in our company and look forward to discussing this opportunity with you!
One of the region's leading title companies, Community Title Network offers a vast array of title and settlement services to buyers and sellers, realtors, mortgage lenders, builders and developers. Our experienced team of residential and commercial title professionals ensure a smooth closing experience for all parties involved in the purchase transaction. Utilizing the latest technology available and meeting the highest security and compliance standards required by our industry, Community Title Network surpasses our competitors by speeding up the settlement process and making it easier and more convenient for all parties in the transaction to complete the settlement process.

our philosophy
We partner with nonprofits and socially-minded organizations that want to make a difference in people's lives. Since organizations are most impactful when there is alignment between its mission and their employee's values, and employees are most engaged when their strengths, purpose and attitude align with their role, our goal is to match qualified applicants with organizations that align with their strengths, purpose and values.
About Positively Partners
Positively Partners is a social enterprise committed to helping schools, nonprofits and socially-minded organizations achieve exceptional performance from their employees.
We are psychology practitioners, human resources professionals, trainers and system design experts working together to create highly productive, mission-driven, work communities.
Real Estate / Title
·
Community Title Network (Easton, MD)
Administrative Assistant
Loading application form